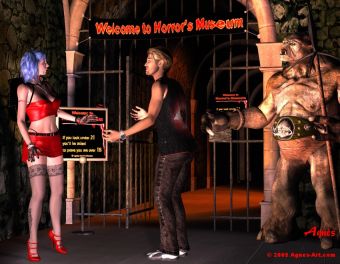 - No ! Don't be affraid. It's just a costume. Come !
- He is horrible ! And he seems so... Beurk ! And he wants I leave my bag !
- That's quite usual. Cause the terrorists. So come now ! Don't be affraid I'm here.
OK. Give me your hand. But if it is too much dreadfull, we'll go away ?
- Sure... So come. You'll see, it's fun.
---
THE HANGING CAGE
---
UTILISEZ LA HALLEBARDE
DOUCEMENT
POUR POUSSER OU TIRER
LA SORCIERE

USE THE WITH-CATCHER
GENTLY
TO PUSH OR BRING BACK
THE WITCH
...
---
JAPANESE ROPES
---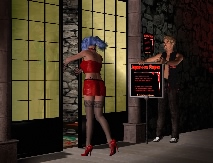 - Do you think I can open it ?
- Yes go!
...
---
OUBLIETTES
---
- Oh ! an oubliette. With a glass like an aquarium...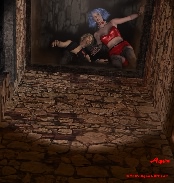 ...And there is a prisoner in. Ooops! She'll see my panties.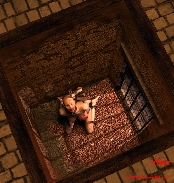 - Ah ah ah, I think she couldn't give a damn about that.
---
TOMORROW
The first questionning of a witch
---
- There is nobody here...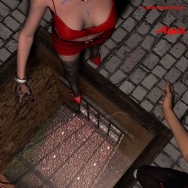 ...Tomorrow ? Why not today ?
- Some actors are probably absent, I think.
- Yes sure. I'll take you.
---
PUNISHING THE BLASPHEMY
Le châtiment du blasphème
---
- An oubliette again ?
- Yes. They'll play a scene with the prisonner.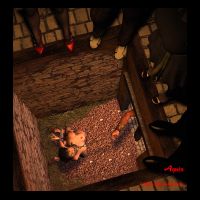 - Ouh la la ... It must be prickly...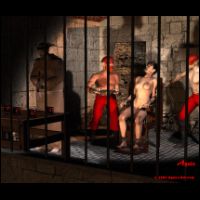 ...
... And that is to open her mouth ?Et là c'est pour lui ouvrir la bouche ?
- Sh ! Listen !
...
- What are they going to do ?
- Watch and shut up.
- You aren't sweetl... Eurk it's disgusting !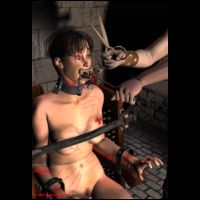 - Yeurk.., I can't see that !
...
---