INTRODUCTION
I am writing these lines in 2122.
Nobody will read them in 1984.
But I need to write.
I need to tell me my story.
To write is for me a recovery.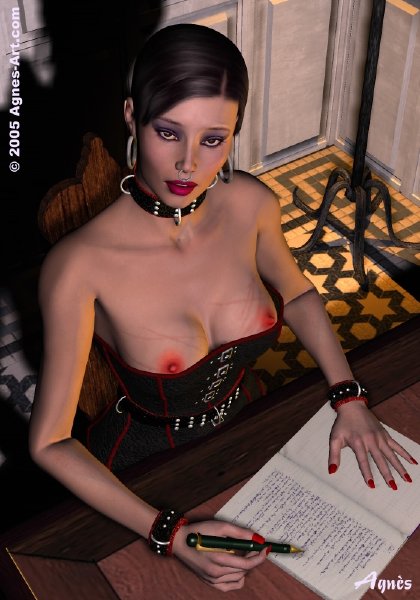 Master gave me permission to do it. I begged my Master for that permission.
I kneeled to implore Him.
I was not allowed to talk, to beg.
I did so.
My Master, Prince Dominique de Lizaigne, punished me for that misdeed.
I knew that I needed to write, he knew that I needed to free myself from those dreadfull memories that made me scream during nights.
His saddened eyes showed it. He knew. He understood.
But he punished me for all that. Because I had spoken without his permission.
Agnès chastised me. Agnès the slave housekeeper.
Agnès was pretending after the first blows. Who softened the next.
Master knew that she was pretending.
I have seen the little ironic wrinkle screwing up his eyes.
This littlee wrinckle he has when he wants to look a severe and just Master.
I am a voluntary slave of the Prince de Lizaigne.
The slave number 309. The slave Helen.
I enslaved me after He saved me from the monsters who had abducted me and tortured me.
I serve my Master fervently and according to my means. I was a journalist. So I write his press release, I advise him about his speech in the European Parliament.
I serve him with my body too.
When he suddenly like using the slave number 309.
I am jealous of Laureline, his favorite slave, almost his wife.
Jealous ? Yes. A little. And I love her too.
I love Agnès so. With a touch of jealousy.
Tied together with servitude, Master and Agnès seem very close.
Agnès helped Master to save me.
I am a bit jealous and very happy.
I'm happy to wear the Master's collar.
I'm happy to be kneeling in front of Him.
Kneeling or being lying on His bed.
Waiting until He gives me pleasure.
I am a voluntary slave of the Prince de Lizaigne.
The slave number 309. The slave Helen.
A long time ago, more than a human life, I was Helen Rosenblum.
A free lance journalist working with many papers, writing little articles.
My universe was my native town, New York and provincial view of the world: there were New York, its inhabitants and the rest of the world.
Then I was lucky in 1984 to get a report with Cosmopolitan. An article about the women in Pinochet's Chile.
It was in Valparaiso that I met the Prince Dominique de Lizaigne, who is my Master now in 2122.
* Read"Jade time slave" on this site or"Europa 2117" on BdsmArtworks